Eleven Members of SCN visited Costa Natura on the Costa del Sol in Southern Spain - the first Spanish resort to welcome complete nudity when it opened some 30 years ago. With its Andalusian style white houses with terracotta roofs, surrounded by award winning beautiful gardens, Costa Natura is the ideal naturist retreat from life in the fast lane - and from the cooler autumn weather of northern Europe.

With Gib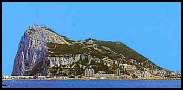 raltar just half an hour away by car (a must for every British visitor!) and nearby characteristically Spanish villages to visit for a cool beer or a meal - such as the white village of Casares (see photo, below, right) just a short drive from Costa Natura - there was always plenty for SCN members to do. We also visited the very popular Sunda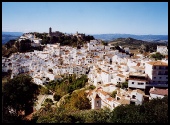 y market locally in Estepona Port and had many pleasant meals out at the countless local restaurants along the coast.

Within Costa Natura itself (see gallery, below, left) SCN members were free to swim in the beautiful heated pool, relax in the sauna or Jacuzzi, have a game of shuffleboard, snooker, table tennis or boules - or just laze in the warm sunshine. The Costa Natura restaurant was the ideal place to have an excellent evening meal or refreshing drink during the daytime. There is also a kiosk by the sea where drinks and light snacks may be purchased during the day - and there is even a well stocked shop on site.

Flights from Gatwick, Luton and Glasgow to Malaga were organised for the various SCN members from around the UK with flight times of between two and three hours. The SCN Organiser acted as 'Tour Rep' on each Saturday taking some members back and meeting inbound flights. The car journey from Malaga to Costa Natura takes about an hour and uses the recently opened 'Autopista' (toll road) with its mountain vistas.
...and on another we visited the nearby Roman Baths and remains of an aqueduct at Manilva, returning by car along a well made up road now dominated by a large new wind farm, where our Organiser, John, took the opportunity to prove it was still a nude holiday! (See gallery above, right.)