In July 2000 four SCN members decided to charter a yacht for two weeks to explore the Greek islands, and at the same time top up their tans - and of course to be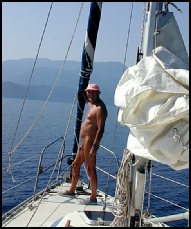 nude whenever possible.
The four people were Ken who skippered the yacht as he is a qualified RYA coastal skipper, Michael, who acted as first mate, and the crew which consisted of Ryan and Jim.
The yacht was booked up through a company that Michael found during his visit to the Earls Court Boat Show in January. We agreed that we would not go for a large yacht and limited the boat to one that slept six but we would only take four to give us all a little breathing space. We booked the yacht for two weeks commencing July 2nd 2000 from the island of Lefkas which is just south of Corfu, in what are known as the Ionian Islands. We did not aim to be too ambitious with our passage plan as we wanted to spend plenty of time in quiet little bays swimming and snorkelling au naturel.
Three of us flew from London Heathrow, with Jim flying from Manchester, to Prevaza airport which was about a half an hour's drive from Lefkas. Jim was going to arrive earlier than the Heathrow flight and was given the task of finding the yacht charterer and would get himself on board as soon as he was allowed.
When we arrived at Lefkas there was no sight of Jim, so the three of us went to find him - and came back with a tale of woe, which developed further as we got on board and inspected the yacht. The yacht we were allocated to begin with was not the yacht promised with the one we were allocated appearing to have been equipped only for day sailings and not for a fortnight's cruise, as it was short of many items. Because of this we spent one and a half days on Lefkas quay sorting out the problems before we were prepared to leave.
Late though we were, off we went, heading south along the coast of the island of Lefkas making the first port of call at the sheltered inner bay at Nidri. This pleased Jim as he had been there earlier in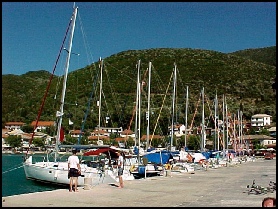 the year and was able to point out his hotel as we came in. We anchored in a spot which would not offend the locals when we stripped off. We got used to sleeping on board, with Ryan having the forepeak to himself, Jim in the main cabin berth, and Michael and Ken together in the rear cabin.
Our routine, which developed over the holiday, was to have breakfast on board then sail to a suitable lunch stop bay for a snack and a swim and then go on to a night stop location which would be sheltered for a quiet evening.
We were nude most of the time when we were sailing and, if the stopping places were not too busy with people, we would be nude then too. We found that most of the sheltered bays that we chose in the evenings were occupied and we were not able to strip off then, but this did not become too frustrating as we had been nude most of the day anyway (and we all slept naked as well). As a result we all got excellent all-over tans.
The main problems that developed were from the poorly maintained yacht and its equipment. It would be too long to list them here but we were very fortunate to have on board a crew with a multitude of skills which were put to their test with the sort of problems that had to be solved.
However, looking back, it was a very good holiday with all of the crew enjoying the sun, swimming, snorkelling and sailing - not to mention the lovely Greek food that we purchased and ate at the Greek restaurants that we sometimes visited in the evenings when we got fed up with our own self-catering!
During our cruise we managed to visit the islands of Lefkas, Kefalonia, Ithaki, and Meganissi before returning to Lefkas and covering a modest distance of 70 nautical miles - which was not as far as we had originally planned due to the delays that we experienced with the yacht. This forced us to curtail our intended plan in order to be back in time to clean up the yacht and allow Jim to catch his early flight back to Manchester on Sunday July 16th followed later in the day by the rest of us returning to Heathrow.
Our experience with chartering has enabled us to find a German company called Skorpios who charter excellent yachts in the same area from Nidri, and we considered whether to get an SCN future crew together, possibly using one of these beautiful yachts instead for a further Smoothie adventure in "the Med".