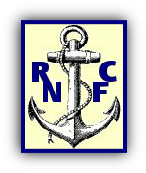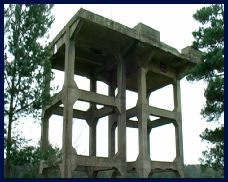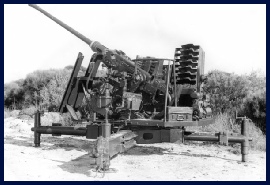 The likelihood of air attack by bombing of the RNCF in WWII was a real threat.

In the booklet about Dorset's Anti Aircraft Defences by John Perks, the RNCF is listed at the top of the list of 'Vulnerable Points' numbered VP 504. This could well have become important as aerial photographs of the site had been taken in 1940 by the Luftwaffe and details of what went on here were remembered by the German engineers here in 1936 installing the replacement Nitroglycerine manufacturing plant.
Anti-Aircraft Gun Defences protecting RNCF in 1940
To counteract this risk a strict blackout over the factory was insisted on, supervised by the Home Guard, and a circle of Anti Aircraft gun sites were installed at Whitecliff, Poole, Studland, Arne, Wareham Golf Course, Slepe and Upton with associated searchlight batteries and all coordinated from Lytchett Manor House.
A more local installation was the construction of two pairs of concrete towers on one of which was a 40mm Bofors gun and on the other the observation post, Kerrison Predictor and ammunition storage.

In Sandford Woods still remains one of the pairs (now a listed building, left) - the 'Heath' tower - only separated by a few inches to isolate them from each other. The other pair - the 'Farm' tower - is just to the north west of Sandford House. They were manned by members of the Royal Artillery and one
of them who was stationed here was Mr Reg Holland who much later became the secretary of Sandford Parish Council.

Only very recently a small three-dimensional thermoplastic model of a German plane was dug up near the Sandford tower, which was probably an aid to the crews to identify aeroplanes.

Interestingly enough, the towers were not shown on the scale model of the Factory made in 1942 although they would have been in place by then.